We want to bring out the very best stories and poetry that we can get our grubby little mittens on. Writing that crosses borders (metaphorically and literally) effortlessly. That makes us feel things that we didn't know we could feel, or simply just entertain the pants off of us.
Based in Berlin, amidst an ever-changing city that is wonderfully queer and diverse, we hope to find like-minded writers the world over and make one big, happy, global community of really lovely writers!
Contact: info@leopardskinandlimes.com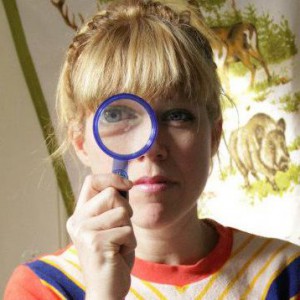 AMBIKA THOMPSON 
managing editor / fiction editor
Ambika is a writer, musician, and a kick-ass parent who loves to dance like it's 1979. She's contributed her own short stories to NPR Berlin, Fanzine, Missing Slate, Plenitude, Litro and Okey-Pankey. But what she really wants is to one day win the Nobel Peace Prize for being a stand-up comedian. For real though, she is playing cello and drums with the poetry editor, Jane, in the riot grrl band Razor Cunts.
http://ambikathompson.com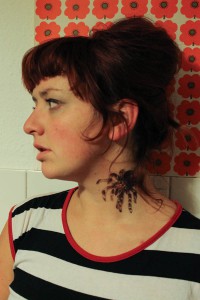 JANE FLETT 
poetry editor
Jane is an over-excitable pervert with a penchant for ridiculous metaphors and glitter. She's won various awards, including Salt's Best British Poetry (2012) and Wigleaf's Top 50 (Very) Short Fictions (2014), but she's still waiting to be presented with her honorary tiara and tankard of gin. When Jane's not writing, she likes to play cello with Ambika in the riot grrl band Razor Cunts, teach creative writing courses through The Reader Berlin, run festivals, host queer events, and rollerskate down Tempelhof runways in hotpants.
http://janeflett.com
Photo © Tom Moore
MADDIE SPERA
assistant editor
Maddie Spera is a writer, filmmaker, and collaborator. She is from Dallas, Texas, and is in her third year as an English major at Sam Houston State University. She is co-creator of Words and the World, a blog which combines poetry and photography. When not writing or filming, she enjoys playing guitar and reading anything by Jonathan Safran Foer.
ISABEL ROCK 
did illustrations for website / contributing illustrator
Born under a lucky star in a field of lavender, Isabel Rock spends her days drawing magical pictures to spread smiles in the world.
isabelrock.blogspot.de
instagram.com/isabelrockartist/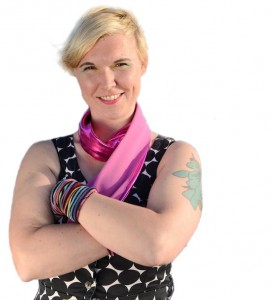 VERENA SPILKER 
Website Helper Extraordinaire
Verena Spilker is a free-lance web designer (www.waterbear.de) sometimes activist and always music lover. She's the editor of Make Out Magazine (www.makeoutmagazine.net) and transnational-queer-underground.net and loves her radio show (www.balmandcreak.de) where she and her co-host Mareike can do and play whatever the fuck they want. People ask her to dj at soli-events too, and she's usually happy to make people dance to weird underground hits and 80s pop songs.