Image © ​Renaud Héléna 2018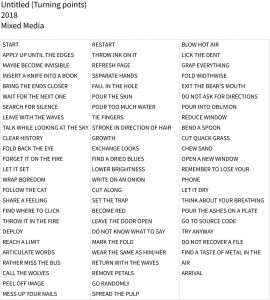 __________

I like plastic and synthetic fabric.
I like cutting a trash bag to transform it into a garland.
I like listening to lyrical music (with violin and other classical instruments) like in the movies, except that here I will be the one saving you.
I like mundane conversations that fail to reach anyone.
I wonder if you come here often.
I like witches potions to find love.
I like pulp cushioning.
I do not like the work of those that want to save us.
I like to get rid of things and feel free for a while.
(for more info => www.renaudhelena.fr)
Proofreading: Michael Hoh