Image © Friederike Jäger 2019
by

Callan Latham

November 15, 2019
My dad cuts up a watermelon in the kitchen,
the first of the season. It is seedless, smiling
with no teeth. The heart is always the sweetest,
he says. The hummingbird outside begs
for more sugar water, manmade nectar.
She sits on the sill, quiet. Watermelon juice
drips down my hand as I bite into it,
soft, naive flesh. We all learn the way to be human
eventually. Bookshelves crowd themselves, seeking answers
to riddles hardly ever explained. Flesh only knows
how to form, protect. We are free from excuses
once the fruit hangs heavy on the vine. Kill it,
they say, kill it all. We mean it for our consumption only.
Eventually, your simplicity will catch up to you.
It's what you give to others that you give to yourself. So,
fine, slice the skin in two, set it on fire, blame it
for your own mishaps. Let the juice roll down your hand,
let it soak your sleeve. It will find peace there,
the blood of sugar and sun,
cut fresh from the garden.

___________________________________________________________________


Callan Latham is a poet and a writer. Her work has recently appeared in Crêpe and Penn, Angry Old Man Magazine, and the Ohio's Best Emerging Poets 2019 anthology. She attends the University of Iowa and spends her days wishing for the sea.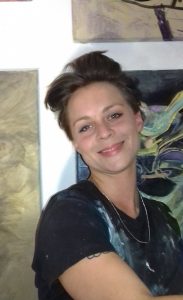 Friederike Jäger:
HOMEPAGE www.friederikejaeger.com
SOUNDCLOUD www.soundcloud.com/friederikejaeger
INSTAGRAM www.instagram.com/friederikejaeger
FACEBOOK www.facebook.com/jaegerprojects/
INTERVIEW www.bitrosie.com/#/friederike–jger/
GORKI www.gorki.de/index.php/de/ensemble/friederike-jaeger
YOUTUBE www.youtube.com
SPOTIFY https://open.spotify.com/artist