Meg Braem is a Canadian playwright hailing from the West Coast who now calls Alberta her home. A champion of her characters and a firm believer in the importance of fore-fronting women's voices, Meg has been awarded the Gwen Pharis Ringwood Award for Drama and her play Blood: A Scientific Romance was shortlisted for the Governor General's Literary Award for Drama in Canada. She is also a badass beekeeper, parent, and the current Lee Playwright in Residence at the University of Alberta.

When you write, do you think about how the people who know you — your friends and family — will react to the finished work?
I don't and this has backfired. My father came to a reading of mine when I was first starting out. The reading was in Vancouver, my father lives in Kelowna, but for some reason one of his work colleagues was there. He recognized elements of my father in the play and wandered over and commented, "Well, I recognized that guy!" My father was mortified. He never came to another reading or production again. Even when I got published, I gave him a copy but he never read it. It could have been hurtful but it was an understanding that I was going to write whatever I wanted about and he would support it, but keep a safe distance away.
There have been other times when I've written about someone … in a fictionalized way. The ethics of it can be complicated. I don't think writers can help but pull from their lives. Sharon Pollock once told me…it's like baking a cake, you take the ingredients and mix them together. In the end, you can't tell which part is the egg, which is the sugar…bits of people, things, experiences all mixed in that make a play.
As someone who has lived and worked in both British Columbia and Alberta, Canada, how does geography affect your work?
It seeps in. The geography around us is as important as the people. It determines how we think and feel. I've always found that it makes its way into the story.
How did your training as an actor inform your writing process?
I think it's the same process. You champion your character, you make choices, you risk, you fail and then you make another choice. Rather than on your feet, this is often done at a desk, over many drafts. Rather than playing one character, you must sit in each person's shoes, you must never judge them and you must champion them to the end. This is how one sidesteps melodrama, you must believe that each character is right in their own way.
Would you perform in a piece you've written, or have you?
I started out as an actor. My first gig after theatre school was with William Head on Stage, an inmate run theatre company in Victoria, B.C. I found the experience of being there much more interesting than the play we were performing. I wrote a play called Potentilla about the experience and performed it with my friend Mike at The Fringe. I liked that through writing I could control what kind of part I was playing. I had just spent the month climbing and scaffolding while in a French Maid Costume. I also realized that I hated runs. I didn't like to be watched and I found the production boring once it wasn't in rehearsal anymore. I love the exploration of rehearsals, the choice making, problem solving and playing. Writing is a way to practice the parts I love without having the parts I don't.
When you are writing a play, do you think about structure as you are writing, or do you let it come out naturally?
The beginning is pure impulse: small bits of dialogue, a scenario, a line, a frustration that I want to figure out. The journey is from impulse to structure and it can be a long winding road in the wilderness before having a clear structural path. I do try to keep an eye out for opportunities for conflict while exploring.
How do politics (Canadian, identity, or otherwise) influence your work, if at all?
I think they do but I'm not sure how. My work is often about women since that's the way I see the world. That being said, my last play was about a 99-year-old World War II vet. The things that are happening around me are the things I explore. I wanted to talk about aging and agency because I was watching people struggle around me.
Are you inspired by other art forms like music or visual art?
I often end up getting stuck in a rut of only seeing theatre but I have often found that dance is what I am most enlivened by. I think there's something about getting away from words to watch expression through physicality that's kind of thirst quenching.
One thing I have been trying to understand are the themes (or variations on themes) that I tend to write about. I was wondering if you identify the themes that come out in your work, or if you try to avoid that identification for fear of becoming self-conscious of it?
I never think about that. People often tell me the themes of my work but that's for them to analyze, my job is to keep writing whatever pops up.
As the current Lee Playwright in Residence at the University of Alberta, what is your favourite thing about where you are now?
It's a luxury to have days to write. Normally, I would be scheduling my life around time at my desk while balancing making money, parenting and keeping up with a to do list. The Lee Residency offers time, a place and a community to support writing. There is no fight for it to be a priority.
Let's talk bees! How did you become a beekeeper? How has this informed your writing?
We became beekeepers by accident. My husband is an avid gardener and had dragged me out to a Seedy Saturday event. It was there that I started talking with a beekeeper. I took a course and we decided to get a hive on my father in law's property. It has become my husband's deepest passion and our apiary is now 25 hives and growing.
It has changed my writing because it has changed how I think about land. I now look at land from the perspective of a beekeeper. What is the forage like, the climate…its a very clear lesson in how things are connected.
What are you working on now? What's next?
I've been working on a play about resurrectionists (grave robbers) for the past few years and am deep into writing a new play for the University of Alberta BFA class. This will use The Oresteia as a jumping off point.
I've also just co-written a book profiling female revolutionaries that will be published by the University of Toronto Press in 2019.

__________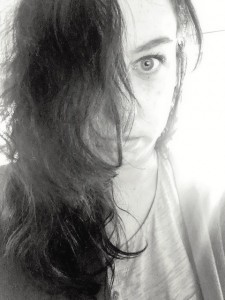 Kaitlin Ruether is an MFA candidate at the University of Guelph in Toronto. Her fiction is forthcoming in Lost Balloon Magazine and has been published in FreeFall, The New Limestone Review, and This Side of West. Her play, Snowfrog, was produced by Vino Buono in Victoria, B.C.. She is a regular contributor to the Canadian music publication Exclaim!.