Image © C.B. Walshak 2019
by

C.B. Walshak

June 4, 2019
When I saw her for the first time, it felt like I had—not butterflies—but white owls flapping violently in my stomach. Helen's on Main Street. She was dramatic and tipsy, a rainstorm contained inside olive skin and brown-sugar eyes. Now I understand why hurricanes are named after people. Her name was Lizz.
That autumn, rain fell in wet curtains across the city. The sky would scream with thunder and laugh with lightning. Inside, we were dancing to Springsteen, making love to The River. Lizz smelled like fresh dirt and wet leaves and big porches and tobacco.
She broke up with me in January. Black sharpie on a blue sticky note while I was asleep.
Sometimes, I can still smell her, and when "Thunder Road" plays I want nothing more than to slow dance with her ghost, a blend of who she was and who she must be now, fucking someone else in some other big city.
Then there was Maris. We met at Black Hand Coffee the weekend the dogwoods were blooming. She was green tea latte. I was dirty chai.
She stored photographs in an old shoebox, stored her tears in a bottle. She cried at least once a day.
Crying makes you feel human, I reminded her often. I had read that in a book once.
Maris had salt-skin and salt-kisses and eyes that shifted color with the tide. The sex was good, rhythmic, like water meeting sand, and I wanted so badly to swim all afternoon.
On warm spring nights, she nuzzled into my shoulder nook. She would speculate on whether or not mermaids and mermen have ever been on food stamps, if Poseidon dreamt of different ways to die.
She killed herself right before the holidays. Pills.
I didn't sleep for three weeks.
She had always wanted to visit the West Coast, see Alcatraz, swim in the Pacific.
Eventually, I fell out of love the way you fall out of sleep: quietly, with a soft grudge. But that girl still frequents my dreams, night and day.
I breathe air through that tooth to make sure it still hurts.
The following summer, I fell in lust with a fallen star with golden hair and amethyst eyes. Her name was Celia.
We were two bodies that would break and bust if we did not close the gap between, so we made love drunk and sloppy in the bathroom at Siné, and again drunk and sloppy back at my place. All we ever seemed to make was love and breakfast.
She told me she attends baby showers for galaxies that have yet to be named, that the moon chain-smokes Lucky Strike cigarettes, that Cassiopeia was the first poet.
That summer, she winkled every secret out of me.
What are you afraid of? Open doors.
What is your dream in life? To quit my job at the newspaper and travel the fucking world.
How many girls have you loved? That's something I'm still deciding.
How many have you fucked?
The universe took her back when the leaves changed. Our time was brief, like an October sunset over the James, a Phoenix burning to ashes.
From time to time, I think of her and wonder: when we are finished with these bodies, will I know her again?
I loved a girl made out of paper. White printing paper. Her name was Margot.
She was working on a local representative's campaign as Stapler Girl/Copy Girl/Coffee Girl for $12.50 an hour. We shared a bench at Capitol Square one Friday morning in April.
She was an artist, a 21st-century Renaissance woman, really. A painter, a filmmaker, a writer of songs. Margot frequently sang at The Camel with her blues-laced tongue, and her songs, I swear, could give sight to blind people's eyes. I pray to God, she would wail, that I look good when I fall apart. People have told her she should quit her day job.
On lazy Sunday afternoons Margot decorated my bed with her parchment skin, rustling in my sheets. We sang along to the soft side of Zeppelin, whispered of mountains crumbling to the sea, toyed with the idea of traveling to California.
We drank whiskey sours in the backyard, and she would play "Tangerine" on her guitar until it was too dark to see the strings.
She kissed the salt from my neck after my Saturday morning jogs. On early winter mornings, when the sheets had slipped from her arms, I read the goosebumps on her skin like Braille. She taught me the difference between love and sex. And I wrote poetry all over her body, across her arms, down her legs, in the folds of her knees and elbows.
Most of my poetry was about other women, constellations of memories and ghosts and lyrics and orgasms and fake orgasms, pressed into her paper skin. It tickles, she would whisper.
If a private investigator dusted her skin for prints, they would have found mine and mine alone.
We dated for two presidential terms.
It was a Wednesday night in January. Margot sat on top of her bed in our house on Grove. We had been living together for four years. For two years, she had wanted a ring.
Without a word, I knelt at the foot of the bed.
Beginning with her legs, I carefully ripped her paper skin into small pieces. I moved up the length of her body, slowly, meticulously. Then, I ripped each piece into smaller pieces, crumpled her heart into a ball, made a paper-snowflake out of her smile and hung it with tape on a windowpane.
I gathered her pieces into one pile.
Lit Margot with matches.
---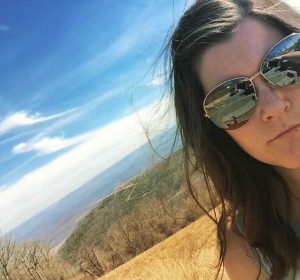 C.B. Walshak is a poet and writer, whose work is largely influenced by her hometown of Richmond, VA. While attending the College of William & Mary, she was awarded prizes in poetry and screenwriting, as well as Departmental Honors for her academic writings on F. Scott Fitzgerald. She is the Founder & Chief Editor of Old Dominion Bride, a Virginia-focused wedding blog, and is currently working on her debut novel. She lives with her husband in Baltimore, MD.